Imagine you could make one simple tweak to your ceiling that will instantly enchant anyone who dares look above their head.
What if I told you there were 34 of these color tweaks and each of them can drastically transform your living spaces into something ICONIC that will make your guest jaw drop and their eyes fixated on the design?
Lucky for you, that's exactly what I'm going to share with you in this post:  34 ceiling paint color ideas for living room that are insanely charming and easy to accomplish TODAY.
Why You Should Paint Your Living Room Ceiling
Before we proceed, you should know you're LEGALLY allowed to copy and paste each of these ceiling paint color ideas for living room into your home.
But that's not the problem, is it?
After burning calories designing and decorating the rest part of the home, 'ceiling' seems to be something that skips our minds.
Even when we thought about repainting it, what usually pops in our mind is a white and flat color design.
Here is the truth of the matter:
We often see the ceiling as a less-likely-to-be-noticed area in our home.
Well, it's appropriate to think that way because ceilings are above our heads and are probably not the first thing you'd notice when stepping into someone else's living room.
But when seated and waiting to be entertained, ceilings are one part of the room anyone will immediately and undeniably pay some attention to.
The roof not only gives our visitors something to look at whenever they're bored but also plays a key role in how they feel and interact with the entire building.
I don't know if you have noticed but these days most houses no longer have plain ceilings.
The reason is that every homeowner is THRIVING to make their home a conducive living environment. Because they understand, the more convenient the environment; the happier its occupants will be.
And considering the ceiling can help with that, I think it will be so unseasonable of you to ignore just a quick little renovation that will pay off.
I guess it's because you don't know the psychological benefits and health impact of painting your ceilings with some standard colors.
Well, let me burst your brain on how much these ceiling paint color ideas can alter your mood and entire physiology.
Read Also: Best Paint For Bathroom Ceiling To Prevent Mold
34 Ceiling Paint Color Ideas For Living Room
1. Blue and white ceiling color idea
Blue is one of the most popular colors, although it is the least appetizing when standing alone. For that reason, it's usually accompanied by a white shade.
Merging these two colors on your ceilings is a masterpiece that brings sophistication to the living area. It adds a jolt of energy or whisper calmness like the open ocean –which is why it's preferably used in bedrooms, as it helps hence sleep mood.
2. Navy and white Ceiling Paint ideas
The combination of white and Navy blue makes an admirable partner.
The white serves as a classic high-contrast partner that gives the Navy blue a lively lift. Together they both radiate an energetic vibe, making it an excellent choice for the living room ceiling.
If you're painting the walls with navy hues as well, throwing in a bunch of white or shiny accessories will rescue the space from being too gloomy.
3. Golden yellow and gray ceiling concept
Golden yellow has always been my favorite. It's a bright and expressive color that is associated with riches and beauty.
It also symbolizes luxury, which is why it's heavily utilized in futuristic homes, hotels, and expensive restaurants. And when used on the ceiling with a gray companion, it makes the roof blossom like the yellow flowers in late spring.
Read Also: Wall Painting Designs For Living Room
4. Pale-yellow and white ceiling paint color design
This ceiling paint color design goes well with a sectional roof. The reason for this is that with the white shade on the first section, the enclosed pale-yellow has a distinctive look that is immediately noticeable.
Here is why it will work:
Since the entire walls are painted white, and there are few accessories with faint color, one can easily single out the odd pale-yellow on the ceiling – just like separating the wheat from the chaff.
5. Lovely Fuchsia pink and white roof
Psychologically, many people associate with Fuchsia pink as a symbol of love and kindness, as it arouses hints of romance and holidays such as Valentine's Day.
But, you DO NOT want to go overboard with this shade because too much of it can be overwhelming for males, as it gives the feeling of being girly.
Hence, it's imperative to apply little of it and neutralize its femininity with white colors – like the picture above.
6. It's Sunny Yellow Day!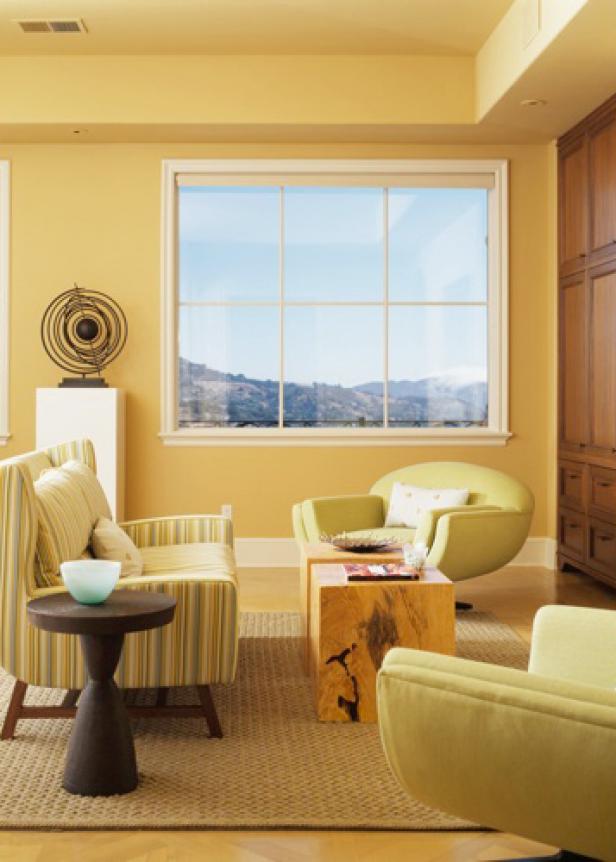 Is it just me, or does it feels like summer again?
The minute you walk into this living area, you're INSTANTLY struck by this sunny-yellow ceiling and walls that radiate without even drawing unnecessary attention.
Health-wise, this flashy aura replenishes the energy level and provoke positive thought.
7. Turquoise blue and white living room ceiling
Turquoise blue is another healing color that has a strong link to the ocean. Similar to blue, it is well-known for recharging our inner batteries – elevating the spirit and the body.
On top of that, it's part of a designer's unique jewelry piece often found in museums. So with these myriad hues (turquoise and a striking combination of white), your ceiling will perpetually inspire.
8. White and Raspberry-red living room ceiling
The moment you step foot into this living area, you're greeted with this appetizing raspberry-red color ceiling and sofas that naturally cause your energy levels to spike.
Contact with this color tastes good. It's one of the most visible colors in the paint spectrum that adds richness and physiologically increases your appetite – which is why it is so common in restaurants, kitchen, and dining areas.
9. Dark gray ceiling with white color trim
If you are not into shiny hues and wanted to keep things simple yet classic, dark gray is the perfect neutral color that does the trick without fail.
Dark gray is becoming a high demand shade in modern loft spaces, as well as bachelor pads. It's not a flashy color that looks for attention, but one that oozes calm and dispassionate.
WARNING! Too much of it can be depressing and uninspiring, which is why any accented trims MUST be painted white, so it floods the room with some natural light.
10. Muted Color Ceiling Ideas
This living room ceiling is a minimalist concept that doesn't need much of your thought. If you have an airy room with white walls, painting the ceiling black will help give it a contrasting look.
The color scheme will accentuate its minimalist nuance and make the room a little bit cozier and more intimate without being too dark.
11. Tray ceiling with dark grey, black, and orange
When it comes to ceiling paint, a white finish is sufficient for revamping the roof. But that doesn't mean we can't play with some dark shades.
As demonstrated, the tray ceiling stood out due to the dark grey, black, and saucy orange. The three-dimension wrapped with these bold colors creates a visual interest that is of modern and chic character.
12. Orange and White standard ceiling paint color
No CAP! This room looks so refreshing.
The orange false wall rolls out the red carpet for your eyes to walk up to the ceiling.
The orange chair, on the other hand, complements the entire design. It helps set that perfect intimate mood and atmosphere.
If there is one thing about this color combination is that the human brain easily recognizes them.
13. Designer white Victorian ceiling design
At least if you're going all white make it classy!
When it comes to vintage style ceiling, you DO NOT want to MISS OUT on this Victorian ceiling design!
The white Victorian ceiling provides a contemporary style for your living room, let alone adding the antique light pendant that accentuates classiness and elegance.
14. Dark gray + creamy ceiling paint color design
This tray ceiling with ONLY two shades is DIY inspiring. The natural gray highlight a masculine look, while the bright gradient creamy white aim to produce high contrast.
And thanks to the gray sectional sofas and hardwood stool that complements the bespoke interior concept.
15. Uncluttered Golden box color design
Have an already painted white ceiling?
You can create a unique and inimitable character that leaves an indelible impression by adding a couple of uncluttered metallic golds descending in a rectangular shape.
All you need do is measure the length and width of each stripe and mark them on the ceiling with a pencil. Ensure the stripes are straight using a high-quality masking tape and guard the edges of the shape firmly with it, before painting.
16. Charcoal gray ceiling
Charcoal gray is the best bet if you crave a standard, neutral décor. It could be dull, but it's a sophisticated alternative to black, as well as other vibrant hues.
Design-wise, since the entire ceiling is charcoal gray, it is best if you pick a couple of accent colors such as burnt orange and yellow for the sofa and throw pillows to complement the bespoke idea.
Read Also: Wall Paint Design Ideas With Tape
17. Cream and brown color combination
The earthy brown shades and seducing cream color ceiling feel fabulous. Both colors color schemes are attractive choices for elegant and timelessly modern ceiling design.
It feels welcoming, which makes it an excellent pick if you're creating a peaceful retreat for yourself or putting the property for sale.
18. Statement on a Licorice black ceiling
Ignore the equator pendant light wrapped up in feathers. The actual decoration is the text on the shadowy ceiling that is immediately noticeable.
Leave a bold statement on the Licorice black ceiling that allures your visitors to read.
It could be an inspirational quote or anything. The mean take-away is that the text arouses curiosity in your visitor's mind and keeps their eyes fixated.
19. Night Sky 3D Ceiling design
If you're trying to take it up a notch, this 3D ceiling is what you need.
It's an attention grabber that leaves a peaceful night sky above your head. Although, it's more of a professional installation than DIY. But on the bright side, it's budget-friendly and great for long term or temporary use.
Also, it doesn't damage the ceilings. Just peel off whenever you're ready to update your space again.
20. Embrace the Nature with Light Green
Sitting in this type of living room feels like you're draped in the warm hands of mother nature.
The walls and the ceiling wrapped up in light-green boost pleasant feelings –the same feelings you're likely to experience when you come in contact with a natural itinerary.
But to portray that lush outdoor beauty in your home, you've to sprinkle a few varieties of artificial greeneries. They help transform the space into a plant paradise.
21. Whitefish scale ceiling texture design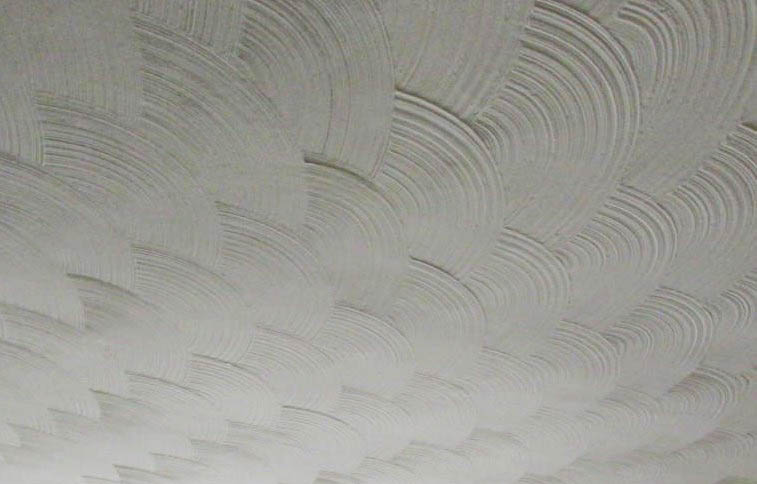 This eye-catching fish scale texture ceiling would be a preferable alternative to your usual white and flat concept.
It's quite a rare characteristic to find but looks fantastic on any ceiling. The sweeping, circular arches are what create the antique pattern.
Although it is one of those textured ceiling paint ideas that are best left to a professional installation because it comes with a lot of hassle and experience.
Read Also: 3D Wall Painting Ideas For Bedroom
22. Chocolate Coffered Ceiling design
A coffered ceiling is an ancient Rome design that consists of a series of rectangular, square, or octagon grids in three-dimension sunken or recessed panels to add architectural interest to a room.
It looks even more appealing when painted with black chocolate, as the prestigious color accent elegance, mystery, strength, authority, and formality.
Just make sure your living room living is at least nine feet high, so the beams don't feel like they're right on top of your head.
23. Dark-brown ceiling color idea
Brown is a natural color that psychologically evokes a sense of strength and reliability. Unfortunately, the hue needs a contrasting color to POP!
Painting the entire ceiling brown looks unappealing. It can seem vast, stark, and empty, like an enormous desert devoid of life.
That's why the dark brown mixed with light beige helps brings a warm nuance that is inviting.
24. Popcorn Texture ceiling idea
The popcorn texture idea is definitely worth your thought if the living room ceiling is low. The 'bumpy' appearance not only adds curb appeal but also hides imperfections and deadens noise.
It is DIY aspiring, but most homeowners prefer consulting a popcorn ceiling expert for installation and maintenance.
This idea cannot be achieved with a regular brush! The stubble will fall off once it is wet. However, a segmented foam roller or a Homax spray unit will do the job.
25. Paneled ceiling design
If your home is sitting in a tree-lined garden, a paneled ceiling would be the best bet as it creates an eco-continuation of nature with an edgy coastal style.
The extensive vertical wood panels are what invites the eyes upward and light up that cozy feeling.
Cleaning the woods won't be difficult, but the work can still be time-consuming, especially if you need to climb up and down a ladder to do it.
26. Flat Cream Color Ceiling
With the number of detailing this living room has, you shouldn't be afraid to go with a flat cream color ceiling. Also, throwing in a brown sectional sofa grounds the room, making it a more modernize living space.
This standard ceiling paint color is not only simple to achieve but also pocket-friendly and easy to customize to your taste.
27. Purple Colors Common Ceiling Paint Color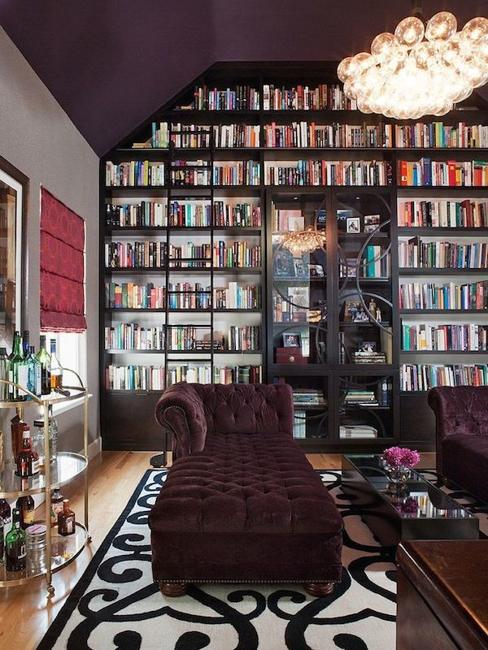 Don't forget purples are amongst the top 3 most beautiful colors in the entire world, even though they are rarely found in nature. So designing the ceiling with a moody purple color will make the room downright chic.
Furthermore, you can include some matching purple color Chaise lounges or sectional sofa to replenish the curb appeal.
28. Gray Ceiling That Matches the Wallpaper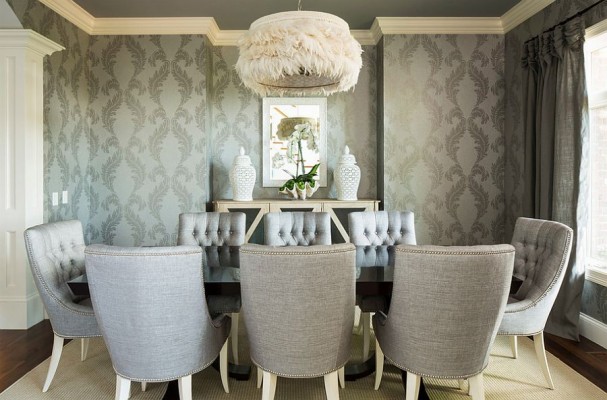 The thoughtful gray-on-gray motif makes a lofty impression that ensures a magical setting for intimate living room dining and conversation.
And don't forget the ceiling color should match with the large scrolling leaf wallpaper, as it makes the space cozier.
29. Monochromatic Blue Color Scheme Living Room
Something extraordinary happens when matching colors: it looks even more spacious.
Painting the entire room monochromatic blue palette gives a dramatic space that is a more polished, extensive, and cohesive appearance.
It has an overwhelming effect that other colors do not have. Besides, you can go the extra mile dotting the room with brass accents for a splashy and glitz view.
30. Glossy White living room ceiling
Don't be afraid to go all white!
If you're living in a futuristic home with an incredible amount of details and furnishing, you may want to play it safe with the default color: white.
The glossy white ceiling adds shine, glitz to space, and reflects light like crazy – making it a million-dollar view.
31. Crossed color purple beams with white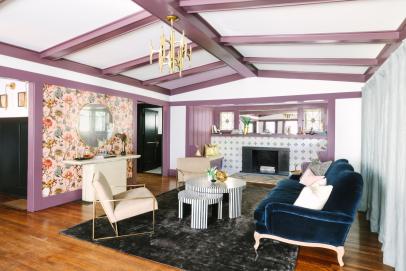 Having crossed over beams hanging around your ceiling can make it look like an industrial loft or a farmhouse.
And whenever a small room is congested with such architectural details and cursed with lower ceilings, your best bet to receding the beams is through painting.
Using a bright shade than the walls like purple has the effect of drawing the eyes upward and creating an unforgettable first impression.
Also, the open areas in the center painted in white will appear to be higher than it is – so long as it matches the walls.
32. Salad green color false ceiling
Stepping into this living area feels like you're in contact with nature, and it brings calm and wholeness.
This salad green represents tranquility, good luck, and health, which is why it's frequently used in decorating fitness brands.
Rather than your typical dull shades, spruce things up with a splash of lime green. You can combine it with some yellowish-brown, gray, or shades of dark-blue to make it POP.
33. Icy Blues ceiling
Icy blue is courtesy of celebrity fashion and design. The glacial color looks cozy and expresses sensual beauty on the roof.
Aside from its gorgeousness, this glacier ice is contemplative, thought-provoking, and meditative, as it reflects the calm expansiveness and subtle movement color of the sky and ocean.
Psychologically, it demonstrates intense relaxation, purity, denoting simplicity, and truth. Furthermore, it's frequently associated with most intellectual activity.
34. Peach color ceiling
Peach is a trendy color in fashion beauty and a good choice for interior décor. It is a sweet and beautiful inspiring color palette of the beach during sunset.
And as you can tell, the peachy ceiling elegantly highlights and brightens up space. You can pair it with some classic cream for a sophisticated look.
Read Also: Living Room Paint Colors With Brown Furniture
What is the most common ceiling paint color?
White ceiling paint
White ceiling paint is the most popular choice for homes, but no color is off-limits. Colored ceilings are a great way to change the shape and mood of a room. White ceiling paint: Ceilings are most often painted white to reflect light and brighten up a room.
What's the in colors for living rooms 2021?
These Are the Living Room Paint Trends You Can Expect to See in 2021
Modern Grays. For an elegant neutral that looks modern, yet timeless, Sue Wadden, Director of Color Marketing at Sherwin-Williams, says you can't go wrong with a warm shade of beige-gray.
Soothing Blues.
Earthy Pinks and Reds.
Sharp Black.
Should ceilings and walls be the same color?
When the ceiling and walls are the same color, it can make a room feel smaller or cozier. Rooms that have lower ceilings with less surface area are the most commonly painted to match. If you have very high ceilings, you may also want to paint them the same color as the walls.
Should I paint ceilings white or same color as walls?
Paint your ceiling the same color as your walls. This will draw the eye up, which creates the illusion of a larger room and higher ceilings. Bonus if you're able to install some trim and crown molding, as I've found this can also make the ceilings look higher.
Is Gray going out of style 2021?
All you have to do is look the Colors of the Year for 2020 and 2021 to see we are definitely moving away from our love of cool neutrals. While Pantone chose the pale Ultimate Gray as one of its 2021 Colors of the Year, it's second color, the bold yellow Illuminating is as far from gray as you can get.
What living room Colours are trending?
See Inside 7 Designer Living Rooms
Olive Green. Patrick Williamson.
Purple Hues. FLOR.
Shades of White. Justin Chung.
Earthy Tones. Contura.
Crimson Red. Pieter EstersohnGetty Images.
Soft Neutrals. James Balston.
Unique Shades of Green and Yellow. Graphenstone.
Subdued Pops of Color. Jojo Bradley.
What colors make a room look bigger and brighter?
So, what colors make a room look bigger? For an optimum effect, go with soft tones like off-white, blues, and greens, and always remember that brighter rooms feel bigger and more inviting. And here's another hack: Try painting your wall trim and moldings in a lighter color than your walls.
Should ceilings be white or off white?
A white ceiling will reflect the most amount of light and can help tie together other contrasting elements of your room. According to Sherwin Williams, white is the right choice, especially when the room lacks light. "While somewhat cliché, white ceilings are sometimes the best choice for a room.
Should ceiling paint be flat or eggshell?
Flat latex paint is usually the preferred paint for textured ceilings. If the ceiling is not textured, or not covered in what is known in the industry as "a layer of popcorn," then an eggshell or satin paint can add a glossy sheen to the uniform surface of the ceiling.
Wall Color – Tint your ceiling paint to match your walls. Take that paint all the way up! Sheen or % Change – Use your wall color, but change up the sheen.
Does dark ceiling make room look smaller?
Contrasting the Walls
If you paint the ceiling a darker color than the walls, it will make the ceiling feel closer and the room feel smaller.
Conclusion
So what do you think about these ceiling paint color ideas for the living room?
Honestly, we both believe it completely transforms the ceiling in an unexpected way that leaves the room feeling polished.
Aside from that, they are gorgeous, simple to achieve, and budget-friendly?
Congratulations! If you've already chosen the color suitable for your living room. However, if you're still indecisive, feel free to take all the time you need.
lastly, if you can't make it a DIY project, there is no shame in calling a professional painter to handle the job.